Thomais had a maginificent experience on October 20, 2018. She had her first discovery day as a vendor in a mainstream art show. She received her first lesson in entrepeneurship – creating, being her and receiving payment for her creativity.
This is huge. The repercussions are many for all involved.
I had prepared the road by sending a submission – late (lesson #1) – and being extremely persuasive. I had organized pictures of her paintings, present and past experiences and shared the fact Thomais is on the autism spectrum and wants exposure.
I did some research about the location, schedule. Hundreds of scenarios ran thru my mind — what could be fun and what could be too stressful. The fun aspects outweighed the stress and/or challenges.
Lo and behold… a YES was received and Thomais was to have her first experience, as a vendor, in a mainstream art show.
I thought: "Holy cow! I hope this organization understands how meaningful this is. They have chosen to practice inclusion – knowingly or unknowingly."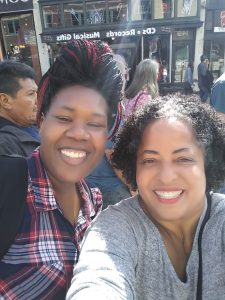 Video – with Vickie Love – visionary and organizer of Beale Street Art Crawl
There were many details to consider — material, tools, art, money, payment forms, drive, food, set up time, etc. —
I contacted various organizations seeking funds to purchase art material. There was no positive response — but I found out there is an arts reuse organization in Nashville that sells (low, low prices) recycled material! Details here!
Very little would have happened if her uncle Charlie would not have been involved. He's a beacon in this huge step. He's an artist. He's a creator. He's passionate. He's a hard worker. And everything he does is full of emotion.
What did we learn?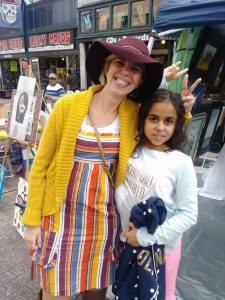 Keeping it fun is key.
Planning is helpful but must remain flexible. You know when it's time to go!
Sharing your story, your highs and lows is always welcomed by many. Watch/Read her Retrospective!
Keep smiling even when time passes and no one stops by your table.
Art is subjective… What someone likes, the other person does not…
Social Media rules (Facebook and Twitter) – sharing every step of our trek and discoveries is vital.
The BUYERS!
The reason to buy a piece of art is different for every buyer… There is a story behind every purchase!!
Thomais was so bold and wonderful… She gave away her biz cards. She asked people if they wanted to buy her art!!
The first buyers — got Meowlloween for their daughter!
The second buyer – a young artist who felt moved by Finally Free Niall Horan
The third buyer – an ex-Marine who had lived in Puerto Rico
The fourth buyer – a friend of the family that purchased Meowlloween – he got the We (heart) UFO's
The fifth buyer – GUMVANA was purchased by a beautiful couple who just reunited after 35yrs!!!
Their initials and another heart was added to the painting!! They willingly paid twice the price!!
#CamilaCabello your song inspired Thomais…
She created a new version of Havana!!!
Beale Street Art Crawl
Victoria Franklin check this!!  Your art show creating magic
The sixth buyer – a mighty supportive young man whose face said it all when he found out Thomais is on the autism spectrum. He asked her to please keep painting…
Will we do it again?  You bet!!! We can't wait…
Videos:
** READ THIS REPORT FROM THE OECD
ENTREPRENEURSHIP AND SELF-EMPLOYMENT BY PEOPLE WITH DISABILITIES
Background Paper for the OECD Project on Inclusive Entrepreneurship John Kitching Kingston University