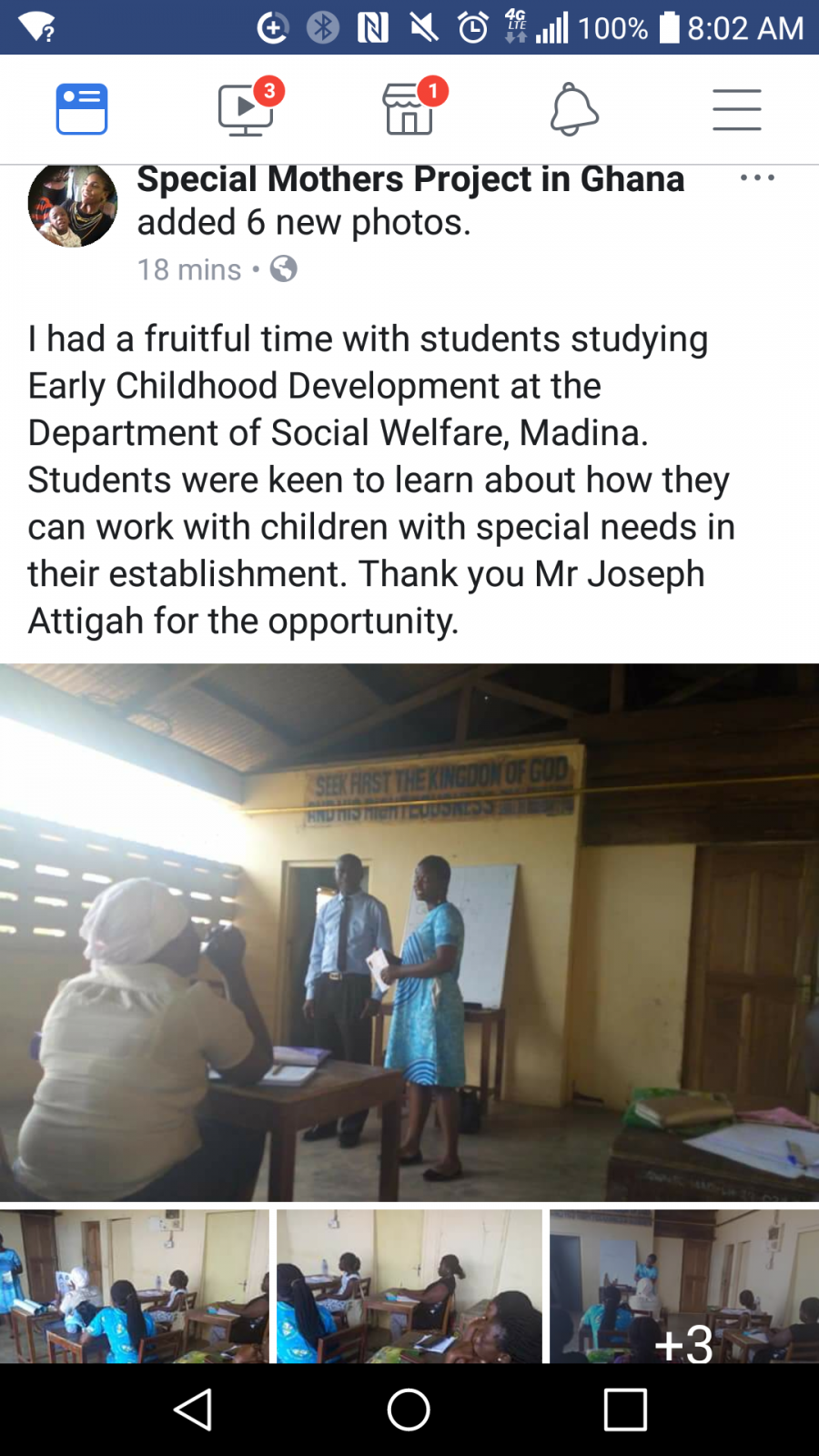 I do not cease to be amazed by the brilliance and resilience demonstrated in so called (incorrectly) third world countries.
Presently, the country of Ghana has an incredible group of mothers (some fathers) who knock on all doors to guarantee future educators have the opportunity to listen about autism and the needs of their kids – – based on their reality!
This is one novel concept and one such group is the Special Mothers Project in Ghana. I have interacted with Mary Amoah, the incredible and power house mom of Nana Yaa. Nana is now a teen, on the autism spectrum, non-verbal. Their experiences in the last 15 years led Mary to pursue advocacy at its maximum level and share the many lessons learned with the upcoming number of parents raising children on the spectrum.
But, the main goal is to educate future teachers about autism and what their children actually need.
From what I understand, in Ghana (or the United States) there are no University courses educating about the academic and social needs of students on the autism spectrum. This is where Mary and her Special Mothers come in.
These super heroes have surpassed the  boundaries of bureaucracy and nepotism and have convinced academic leaders to open the doors to offer workshops to future and current teachers — yes, parents educating teachers to be about autism and learning how to learn — regardless of behaviors and countless challenges the diagnosis presents.
I mega applaud them. They have succeeded.
University settings in Ghana acknowledge they need to transmit a variety of messages to the future educators of their country. They also realize autism prevalence in their classrooms and the lack of trained educators. They realize they do not know what autism is all about and it is advantageous to work with those surviving it every day.
Say it with me… The PARENTS!!!
Why do I write about this?
I will continue to write to all universities in the USA requesting similar projects become a part of the curriculum of education.
These experiences shall determine how prepared teachers will be when reaching the classroom and realizing that 10+ of 25 students are capable of learning  but need to be taught differently.
Right now, the United States must replicate projects like the Special Mothers Project in Ghana.
What have I done?
Below find the letters sent to the Departments of Education of various universities in Florida.
Only one university responded – UCF.
We have not had the opportunity to meet.
I urge all of you to send similar or completely different emails to these individuals. They need to hear from all of us.
Changes will only take place this way. Books and researchers cannot be the only way future educators shall learn about autism and its realities.
We the parents shall always be a part of this equation.
———- Forwarded message ———
From: YADIRA CALDERON <racayadi@gmail.com>
Date: Thu, May 3, 2018, 11:26 PM
Subject: Fwd: My daughter speaks… Teachers in Florida…
To: <Brindley@usf.edu>, <dnull@usf.edu>, <mbrownell@coe.ufl.edu>, <ggood@coe.ufl.edu>, <pamela.carroll@ucf.edu>, <wsecada@miami.edu>, <heithaus@fiu.edu>
Greetings
Representatives of Education in Florida
I have a simple request…
Please read this email carefully.
My daughter and I are ready to meet with you to discuss the reality of many in Florida's schools.
Our basic need…
Better training of future teachers.
What is being taught and highlighted does not reflect what the system is and prioritizes or what the actual needs of the students are.
Particularly, students with a variety of diagnosis who need Multisensory methodology so they can be taught how to learn.
Many parents end up investing in tutors outside of the school system in order to see our children reading, writing at grade level.
Additionally, teachers to be need sensitivity training to avoid situations like the ones described below.
Yes, I am the kind of parent the school system does not like because I give less praise and do more complaints.
My daughter and her needs represent money to the school. These funds are not properly used and federal law is being violated.
But you know this.
I welcome the opportunity to meet.
Thank you for your time.
Yadira Calderon and Thomais Moshopoulos
Palm Harbor FL
Read about us here…
I was a featured guest in a WEDU PBS broadcast
Below find emails exchanged with the school administration after a variety of events my daughter experienced.
———- Forwarded message ———
From: YADIRA CALDERON <racayadi@gmail.com>
Date: Wed, May 2, 2018, 10:03 AM
Subject: Re: My daughter speaks…
To: Atkins Belinda <ATKINSBE@pcsb.org>
Cc: Mowatt Evelyn <MOWATTE@pcsb.org>, Monica.Verra-Tirado <Monica.Verra-Tirado@fldoe.org>, +Superintendent's Office <Super@pcsb.org>, +Board Office <Board@pcsb.org>, Commissioner <Commissioner@fldoe.org>, Kon Mosh <soloupohsom@gmail.com>, Kennedy Ward <KENNEDYW@pcsb.org>, Nancy E. Bailey <nancyebailey@bellsouth.net>
Your response still does not explain why the words and actions my daughter expressed —   why were they used with the students.
What is not insensitive or inappropriate to all of you, it is to a child.
Your words what they explain is what I have always seen with the school system protecting those who are supposed to be protecting and educating our children.
Not acCeptable.
I am aware this is what your superiors and the legal department approved and what  is put in writing.
The system still does not hold accountable the actions of the teachers.
Three incidents in 2 weeks, these are not inventions from a child.
I'm the one who will listen to my child every other week reminding me…
my PE teacher called us idiots
my music teacher yelled at us even louder this time
the assistant told Jacob his behaviors are pathetic
A reminder is not enough.
Sensitivity training, realistic, needed now.
Yadira Calderon
Parent/Advocate
On Wed, May 2, 2018, 7:56 AM Atkins Belinda <ATKINSBE@pcsb.org> wrote:
Mrs. Calderon,
I can assure you that we follow up on all claims and the 3 you brought to our attention were fully vetted. We found that there was more to the circumstances where staff was addressing students and were found not to be insensitive or inappropriate to the level first thought.  With that said we have reminded our staff to be cognizant of what they are saying to students and also the tone they use so all who are privy to conversations interpret as they are meant.
Please know that Mrs. Downes and I are always available to meet with you about any concern and I am very willing to speak to you about this matter further if you wish to do so.
Best Regards,
Belinda Atkins
Principal
Ozona Elementary
727-724- 1589
"Ospreys Reach Higher!"
From: YADIRA CALDERON <racayadi@gmail.com>
Sent: Saturday, April 28, 2018 10:24:30 PM
To: Atkins Belinda
Cc: Mowatt Evelyn; Monica.Verra-Tirado; +Superintendent's Office; +Board Office; Commissioner; Kon Mosh; Kennedy Ward; Nancy E. Bailey
Subject: Re: My daughter speaks…
Mrs Atkins responded
On another note, I did fully investigate the PE incident with Coach Grab and would love to speak to you about that.  Is there a good time for a phone call??
 I need to receive all responses in writing and then I can speak on the phone.
More details provided by my daughter…
I am so fortunate that my daughter can speak and it is frustrating to hear  about those situations that confirm she is not in a healthy academic environment.
She just told me…
On Monday…
Ms Sean – asst in her room said:
She told Jacob that his anger issues were pathetic…
She also said…
The music teacher
Always yells at them
And yesterday after the kids dropped the drums
Many of them
Her reaction was to get mad
And she yelled really loud
Louder than other times
Again, sensitivity training for all teachers and assistants is desperately needed throughout the district
As I said, I believe my daughter's words.
Her awareness, level of consciousness and sensory needs more than make her understand what is happening around her.
When something is different she tells me about it and I couldn't be more fortunate.
At the same time, this is not the conversations I should be having with my kid in a quiet Saturday night.
So what is going to happen here?
In less than 2 weeks, 3 incidents.
With a PE teacher,  music teacher and an assistant with completely inappropriate behavior in an academic setting.
Verbal abuse. Adults not being able to handle the pressure and the fact they are kids in an elementary school.
If it was one of our kids with an IEP and without a behavior plan, this kid would have been thrown on the floor, held against his or her will and would have been Baker acted.
This is not working.
Your efforts do not suffice.
Yadira Calderon
Parent/Advocate
On Apr 21, 2018 7:54 PM, "Atkins Belinda" <ATKINSBE@pcsb.org> wrote:
Good evening Mrs. Calderon,
I am glad that you shared this with me so that I may address this right away on Monday.
We at Ozona share the belief with Pinellas County Schools that the social and emotional well being of our students is paramount.  Teams of teachers from Ozona will be participating in trainings centered around culturally responsive teaching practices to ensure sensitivity and equity for all students.
I will speak with you on Monday regarding my investigation of this incident.  Thank you again for bringing this to my attention.
Best Regards,
Belinda Atkins.
Sent from my iPhone
On Apr 21, 2018, at 7:19 PM, YADIRA CALDERON <racayadi@gmail.com> wrote:
See link below… Sharing my daughter's words, emotion.
Her expression and understanding must be accepted.
Her humanity and role in a community must be based on mutual respect.
When an adult calls children idiots, such adult cannot expect respect.
Such adult must not be working with children.
Such adult must ask for forgiveness and accept the mistake made.
In past similar experiences in Pinellas schools, my daughter became the responsible one when she revealed realities and abuse lived.  She was forced to change her story based on the fact the adult had to be protected…
Not this time.
Decision-makers in Pinellas County schools are not keeping children safe.
One more time I ask, what are you going to do about it?
Situations like this can confirm to the new ESE Director why are kids with IEP's using the McKay or being home schooled.
Enough…
Yadira. Calderon
Parent/Advocate
**************************************
On May 4, 2018, at 8:29 AM, Jesse Mendez <jpmendez@ucf.edu> wrote:
Hi Yadira,
I'm happy to meet and thank you for sharing your and your daughter's story with me. Please contact Kellie Tabor at your convenience for either a conversation over the phone or in person.
Best,
JPM
My latest letter to UCF personnel:
Greetings
I hope everyone is having a fantastic summer.
I am sharing a photo from Ghana
An incredible initiative
Product of parental frustration and horrendous experiences their children with a diagnosis had in early childhood schools.
It may get worse when the child begins elementary school.
If Ghana does it
How come this has not been done here?
Real life experiences surpass knowledge acquired in books
Practicums are useful but parental involvement must be a part of the process… To make it meaningful, productive and guarantee the educator will be better prepared for the variety of situations they will face.
My opinion
My experience
Take care
Yadira Calderon