Special Needs and Marriage (a parent perspective)
October 14 @ 11:00 am

-

1:00 pm

Free
Realities, Challenges, Fears, Commitment, Lessons of love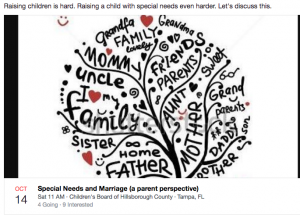 Saturday, October 14, 2017
11am-1pm
Children's Board Hillsborough Cty (Board Room)
1002 East Palm Avenue, Tampa, FL 33605
A stress management specialist will join us!
At least 30% of households comprise of a single parent raising a child/adult with special needs. The reasons why this figure is so high can vary — rejection, sickness, marital problems, financial stress and plain and simple individuals who are not capable of handling a marriage and a child/adult with special needs.
On the other hand, you have families that are prime examples of how things should be — mom and dad support each other, weather the storm/challenges, love leads the way, etc.
We must talk about these realities now.
We must find common ground. We must work out the challenges so we can be better parents.
These are inalienable rights that must be safeguarded, guaranteed, protected.
Event Sponsors:
Ann Millan – FICD – www.myficd.org
Filomena MacDonald – Gulf Coast Autism Association
Yadira V. Calderon – www.autismhappykingdom.com
The Children's Board of Hillsborough County is not a sponsor of the event and does not endorse or support the content of the material(s), presentation(s), staff, volunteer(s) or message(s) delivered during this activity.