Yes, at 8/9 years old doing volunteer work is extremely important.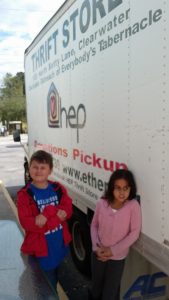 But wait, at this age kids should be in parks, riding bikes, some may say playing computer games is part of being a kid these days. But T. and her friend S. were taken to the Thrift Store, part of the Homeless Empowerment Program in Clearwater.
T. and S. know each other. They play great together. They leave each other alone. They drive each other crazy. They are kids learning about life. They are kids and in most instances, they'd be regarded as one of the bunch. It is wonderful and as parents, we are so proud.
The kids wondered why did we have to volunteer. We explained in simple terms – We want to give back and be thankful for everything that is good in our lives because others are not as fortunate. Explanation accepted.
While volunteering, reality is more than obvious and we moms start realizing that 10 years from now our kids would not survive 5-10 min in any job. We were not there to play and personal interests confirmed how much work was to be done (sorting clothes and placing them on hangers). Once the personal interests were no longer thrilling and the realization that actual work is expected, this is when our duty as parents became really fun. Looking for entertaining explanations to keep them focused was a live rendition of every reason we've heard moms say for hundreds of years. Let's sort by color, by specific item, do this number of items and we'll do this,  we have so many minutes left, that's enough I need you here right now. And you can imagine the rest.