Description
COVID19 ART – CREATED BY RAINBOW MOSHO
Set of 3 consists of:
3 PRINTS – 8.5 X 8.5
The prints are perfect to be framed.
Give the gift of unique and original art by Rainbow Mosho!
** Rainbow was asked, why so much blue? She says: Blue represents memories and I spend so much time outside, I love the blue skies.
** She's surviving. She'll be a stronger human being after this experience. But ask her, she'll tell you… this was tough…
** BTW — Rainbow wishes to know which creation is your favorite?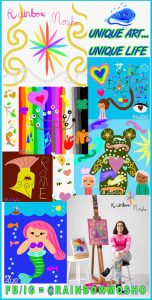 ** Created on #ipad – #Adobe Draw program – using her finger!!
#covid19 #artistwithautism #emergingartist
#kidartist #kidentrepreneur #business
#2020 #ability #illustration
FB/IG = @RainbowMosho
** For a kid with autism, traveling to a different location to help take care of a sick grandparent and experiencing loss, these emotions could become tornado force winds of upheaval and disruption to reality.
** But, art to the rescue and this young artist was capable of expressing what she was feeling based on a variety of circumstances.
She faced beautiful moments. While she sought understanding of the tough ones — while working on patience and many other reactions that challenged her days.
Each piece expresses a moment, a desire, an emotion, many dreams… Ask Rainbow what she was thinking while creating each!