Description
Attendees participate in this presentation – day to day experiences are shared (differences and commonalities are considered, discussed).
The main purpose is to help attendees gain a better understanding of the autism spectrum diagnosis, how parents deal with it, survive it; so anyone can become an advocate through the use of practical strategies and resources in the community.
Yadira V. Calderon has been eating, breathing, sleeping, challenging and accepting autism for the past eight years. She is a dedicated warrior, advocate, radio talk show host, director of short films and co-author of the soon to be published – Autism: The Happy Kingdom. She holds a M.A. International Relations and Diplomacy, speaks three languages and has lived in six countries, having traveled to another twenty-seven. Her friends know she is determined, persistent, positive, creative, open-minded and realistic, she believes these attributes prepared her to become the mother of nine year-old Thomais.
Yadira has worked as Editor for Trade Publications – Meat and Baking industries; Logistics- Cement Industry; Part-time Professor in China; and Teacher Assistant in 3 middle schools – ESE classrooms. She provided support to an adult with special needs and worked in a retail store.
Read about Yadira's latest experiences here:  NEWS
Click here to watch Thomais and Yadira's latest media experience with Laura Harris from WFTS ABC News!
Click here to read a great interview with THE CRAZY MIND!
Contact her: autismhappykingdom@gmail.com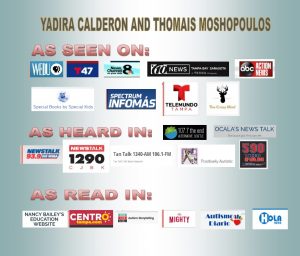 NOTE: Thomais and Yadira were featured in WEDU PBS Broadcast – Autism Town Hall Meeting: Breakthrough to Hope – Watch it here: www.wedu.org/autism
WEDU-PBS broadcast – Autism Town Hall Mtg- Breakthrough to Hope — has been nominated for a regional Emmy!
Congratulations to Spencer Briggs and Joyce Cotton!