Description
The art in this book shall be in every classroom and library around the world.
RAINBOW RABBIT MEETS ORACLE THE ALPHABET CREATURE is also meant as a platform of empowerment and love for all children, specific abilities or not.
K. Winningham says: "The ideas behind it are so creative, how the pictures combined the two words into one image is very clever. 1- the book is fun! 2- my child did enjoy it! 3- As a parent, I do feel it will fill learning gaps, because it is using different learning styles to teach: audio (alliteration), visual (in the illustrations), and kinesthetic (creating your own creature)."
A 10 year old comments: "the pictures are so cute and so bright, I want to look at them again and again. And when I study them, I see the two words coming together, which makes me want to look more."
Parents at home and teachers in a classroom (or a virtual classroom) can use this book as a tool to help foster development and learning skills including alphabet recognition, reading, organization of thought and art. The child will be challenged to follow the directions and yet be empowered by making their own choice of what they want to create. This unique book will expose your child to the world of letters through play – a foundation to child development.
May art and imagination always support your efforts to instill the desire to learn in different ways.
Rainbow Mosho has taught us that since December 2010. Her creations explain what she sees and what she wishes to see in real life.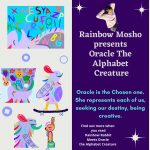 INTERNATIONAL ORDERS – e-mail us for additional shipping cost
Publisher : 

Autism: The Happy Kingdom (MARCH 10, 2021)

Language: : 

English

Paperback : 

40 pages
ISBN: 978-0-9962908-7-6

Item Weight : 

4.6 ounces

Dimensions : 

8.5 x 0.1 x 8.5 inches
You wish to receive updates for future product releases – share your contact information.
[contact-form][contact-field label="Name" type="name" required="true" /][contact-field label="Email" type="email" required="true" /][contact-field label="Website" type="url" /][contact-field label="Message" type="textarea" /][/contact-form]
NOTE: Information shall not be sold to third parties.