Description
COVID19 ART – CREATED BY RAINBOW MOSHO
Set of 15  consists of:
11 Postcards (6×6) 
1 Postcard (5×7 – Bees)
3 Prints (8.5×8.5)  = Faith/Angel/Tree Life
The smaller postcards – perfect to be mailed or framed.
The 3 prints – exquisite pieces that will enhance a desk or a wall once framed.
Give the gift of unique and original art by Rainbow Mosho!
** Rainbow was asked, why so much blue? She says: Blue represents memories and I spend so much time outside, I love the blue skies.
** She's surviving. She'll be a stronger human being after this experience. But ask her, she'll tell you… this was tough…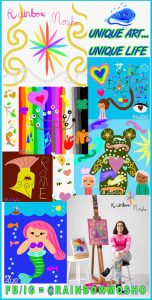 ** Created on #ipad – #Adobe Draw program – using her finger!!
#covid19 #artistwithautism #emergingartist #kidartist #kidentrepreneur #business #2020 #ability #illustration
FB/IG = @RainbowMosho