Description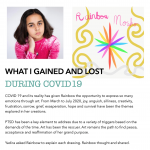 Thomais V. Moshopoulos AKA Rainbow Mosho was born in Athens, Greece in 2008. She was developing like any other child. But at 30 months, she had a massive regression and autism became a part of her life. She loves dinosaurs, whales, the Titanic.
Dyslexia also challenged her. Thomais learned to read between 2016-2017 at almost 9 years old. Thomais paints, draws and runs daily.
In 2020, she created the COVID19 Art series to express the discovery of life and death, handling PTSD, greater meaning of family and deep wisdom for a 12 year old with autism.
Her art has been exhibited in Tennessee, U.S.A. and Japan. She won 3rd Prize in the Fly Your Flag contest – organized by Kidizenship.
"What I Gained and Lost During COVID19" was launched on November 19, 2020. The authors invite you to be marveled in a transformational and unconventional reading and art experience!
Publisher : 

Autism: The Happy Kingdom (November 19, 2020)

Language: : 

English

Paperback : 

39 pages

ISBN-10 : 

0996290869

ISBN-13 : 

978-0996290869

Item Weight : 

4.6 ounces

Dimensions : 

8.5 x 0.1 x 8.5 inches