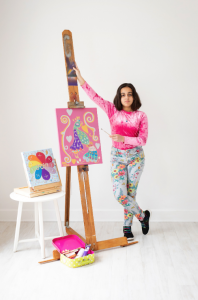 So much keeps happening.
So much we continue to discover.
Rainbow Mosho is a 12 year old with autism who prefers to express her emotions – even though many times she does not understand why she feels a certain way.
Mom and family to the rescue – we support each step of the way, we guide, we manage, we seek understanding. Overall, we do not hide what is taking place.
Rainbow came up with the idea for both books. Yadira V. Calderon, mom, edited her stories. Rainbow has created every single drawing in both books.
Why would a 12 year old write about OCD, PTSD, Death?
Experiences with peers and personal events led her to express her worry about the constant repetition of certain ideas or interests. Explaining that OCD (obsessive compulsive disorder) is a fact in our day to day, Rainbow decided to create a story about this topic. Balloons is the result of  this process.
She says:  I am trying to understand what OCD is all about

Yes, obsessive compulsive disorder… a big topic for a 12yr old right??

You are right, I am not crazy… but along with autism and PTSD, I also deal with OCD…I am finding out others around me also have OCD and sometimes it is tough to communicate with each other…

In our book to be, about OCD, you will see balloons in the shape of cats and many other shapes…Can't wait to show you!!!
* Rainbow is also co-editing her book What I Gained and Lost during COVID19
This is a collection of art created between March-July 2020. It includes reflections on the variety of experiences encountered during this period (life, death, PTSD, social interaction (or lack of), family challenges.

All the emotions faced by a teen in the making, with autism, during this unique time period will generate meaningful conversations in family circles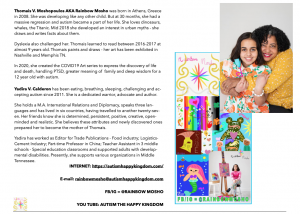 Be ready to talk about these unique creations by a teen to be building her future.
Keep supporting with the intention to create opportunity for an adult to be with autism!