Instinctively… my first response shall be… NO, NYC is not an autism friendly city.
Why? There is no need to ask why.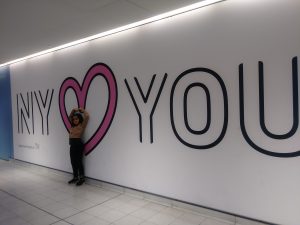 NYC is incredible, magical, powerful. But to be on the go non-stop, to be forced to control your moves, your limitations and to be forced to be on the defensive so people don't walk over you is no way to go about life, autism or not.
I have great respect for the millions of marvels who choose to live in the Big Apple. So many opportunities, so many differences, so many new things to be discovered. When you have a diagnosis like autism New York City could be detrimental to your well being.
What can a person with autism do about it? To enjoy it – put it in your mind that it will be fun, you must plan, prepare and know your limits.
What can a parent raising a child/teen on the autism spectrum do? Super plan, super prepare and know your child's limits.
Can anyone survive it? Of course — if you decide to do so.
What is fun about it? Everything – the smells, the sounds, the buzz, the excitement, the non-stop sensation, the no limits, the you can be whoever you want to be and you may not be considered weird…
What is tough about it? The pace, the lack of consideration when you walk on the sidewalk with your child, the stares, the carelessness, the selfishness.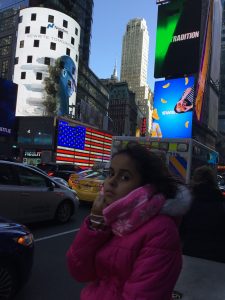 Before our arrival:
Contacting the American Museum of Natural History and the Central Park Zoo was a delight – they responded so quickly.
Contacting Mayor DiBlasio and the Tourism office — Mayor DiBlasio's office responded they could not meet us.  The tourism office never responded — that is outrageous. My daughter had some specific needs and we sought the support of those representing the city — and nothing! That is unacceptable. I urge the Mayor to implement immediately sensitivity training for all employees. Tourism office personnel must respond to queries from individuals with a disability.
Our arrival:
We arrived early – non-rush hour. Airport was easy to move thru.
We decided to do public transportation to get into the city. It was fun. It was long. It was tiring. I wanted us to have the experience.
Our stay:
Air BnB is fantastic to find affordable and easy in and out lodging.  In our case, we needed a place to stay with stair access. We found a studio, on a fourth floor (yes, it was torture!!), 6 blocks from the United Nations. Great price too!!
Grand Central Station – -it was our place to transfer, move through and find treats — yes, macaroons, good bread, basics for the apartment, presents, that Incredible Grand Concourse… The stores — everyone pleasant … a gift store in particular – late afternoon, kiddo is tired, she's pure instinct and autism can rule. This time it was super fun… she blurted out words expressing her excitement with a song playing on the radio… and it was so genuine, so quick, so on point… and all around her, just reacted with joy, cheered her on as she claimed that she was born to dance… Believe me she said and wiggled her body… I was born to dance!! And we paid, moved on and had a good laugh.
There are all kinds of people in NYC. My daughter – when she's over stimulated – she makes a humming sound and repeats lines from shows she likes (or her imagination). This is called stimming. And she's not crazy… Only in a few instances we had that annoying stare from that individual who does not get it and does not respect diversity (this happened in a very busy, buzzing Chick Fil A and she was not being intrusive orbothering anyone).  We know this can happen everywhere!
Central Park – We visited about 6 playgrounds.

This was our favorite:  Heckscher Playground

The big rocks were a big hit. So freeing, so powerful, so child friendly. So busy!!!
Only one instance — from the adults — my daughter excited screams: "Mom, this is the best place ever!" I could not agree more. This lady, on her cell phone, I guess enjoying the rocks – she dares to tell my daughter to keep her voice down!!! Unbelievable. The one place where kids are supposed to feel like kids and an adult is telling her to control her excitement because she's on the phone. I looked at my kid – screamed back at her — yes, this is incredible enjoy, scream all you want. I looked at the lady with piercing warrior mom eyes and moved on. We know, the city is not the problem. It's just some of its people.

Central Park Zoo – The seals stole our heart. Easy to move around. So many beautiful animals to see. Easy to accommodate any needs you may have.

My daughter arrives and she's screaming, ring master like, beyond excited and describes everything she sees. This is a public area, open, not contained. It is a zoo. It is a place to be enjoyed. This one lady dared to tell my daughter to shush… I looked at her and said: "We are in a public area, outdoors. You have a kid excited. If she's bothering you, you can move."  I moved with my daughter. The lady moved as well.  I asked my daughter to take a deep breath. I acknowledged her emotions. I told her yes it is important you feel the newness of it all.

Safety — We had our safety plan on – constant reminders, do not walk away from me, stay by my side, hold my hand. My daughter does not wander now – she used to. Families whose kids/adults wander — your safety plan must include tracking devices, etc.
Food – with food allergies and no real supermarket nearby — it was challenging. What we could afford, where we were – there were not many options. If you have the budget – go for it! Enjoy…
Transportation — you can handle the speed, vibration, buzz of the subway — it's so thrilling! Have your safety plan in place. Helpful policemen are always nearby to answer any questions. Maneuvering the lines, direction, etc. can take some skill and be ready to have your GPS handy or ask. If you can afford taxis — hurray! They are so comfortable now – many are SUV's.
Our Departure:
After the AMNH – we went to Central Park – yes, more rocks and more playgrounds.
We took a taxi back. There should be a flat rate. The driver said it had increased this week!! It was needed.
Arrived early at the airport. Got plenty of snacks. Went to the bathroom many times. We got ready to say bye to this incredible city. We were already wondering when we can come back!!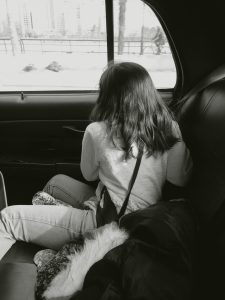 You make any city autism friendly. Yes, you the parent of a child or teen on the spectrum.  Quality of life is your responsibility and it is so empowering when we make it happen.
Use technology. Share your message. Be ready for everything and anything – change the routine, help your child learn it is important to adjust and adapt. Start small. Make it happen!
Her Video – I have Autism… Accept Me!