We could not post as often as we wished yet here we are! Finally.
The last 2 months have been enriching, empowering, challenging and filled with growth. I keep reading affirmation posts and memes that things get harder because that is how we learn. And that is so true.
Rainbow is 13 and it is hard. For her as she learns to maneuver this new stage and for me as a parent – like millions of other parents – we've never done this before. A lot of trial and error and we get up and try again. It is what we can do. Safety, leaving the door open to share and expressing emotions are prioritized.
In between all of this, so much has happened.
We celebrated the 1 year anniversary of having published the first book – What I Gained and Lost During COVID19!
Rainbow is working on additional illustrations and text for her 4th book — Adventures at the Zoo — It is a fun, creative, original book about the beautiful animals we may find at a Zoo. To  be  published  late  January  2022!  — Read about the POEM Challenge created for the book!
Rainbow Mosho has a new website! Thank you #ArtisteCulture for the support and creativity.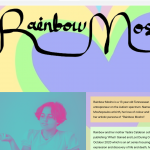 Do you know what NFTs are? Well, we are learning about them. Yes, keeping up with technology and looking for new markets that welcome creativity and uniqueness. Visit her website for details and link to OPENSEA to view the art minted.
Always empowering Borderless Arts TN and Lori Kissinger work with students at MTSU. One of their projects was to create a website to promote awareness. And Rainbow's purpose and art was included. Thankful!
Rainbow Mosho was presented the opportunity to create art (commission) highlighting her understanding of adoption. Watch the video here! Thank you Just Love Coffee Cafe (Murfreesboro East) and Borderless Arts TN.
She read her book Balloons at the Hendersonville Public Library (TN). So thankful for Diane (Library Director) – she embraces us independent authors!
Visit her author page on Amazon!
Thank you BoroPulse for sharing the wonderful news – Her art Exhibit at Just Love Coffee Cafe in Murfreesboro (East store).
Dec. 4, 2021 – She is a Speaker at the Unicorn Foundation's Creative Workforce Solutions Conference! Rainbow will read one of her books, share her process to create art and answer questions from the participants.
Autism Live invited us to talk about our 3 books and realities of raising a teen on the autism spectrum.
Visit REDBUBBLE to find fun and unique mercandise with Rainbow's art!
We thank our friend  Angie Bosio for this incredible video – it summarizes Rainbow's dreams and discoveries perfectly.
Don't forget to check out her LINKTREE – the latest of the latest is there. Follow RainbowMosho on Social Media (IG, FB, TikTok, Twitter, etc).
We appreciate each of you sharing Rainbow's news, supporting our growth as entrepreneurs and believing in Rainbow's purpose.