The Mecca of Wonders awaits!
Yes, Thomais unfiltered straight from NYC… What can she do? Where will she go?
How will she react to the various sources of stimulation? Will autism or her sense of discovery rule?
Watch her video when she discovers NCY awaits!
Most people that know her already made bets — and all said – she won't let the challenges of autism guide the experience.
Reality is, in order to make it happen a lot of planning is taking place as we speak (it is Feb. 24, 2018 and we depart on April 4).
Plane tickets have been purchased – she has not been in a plane in almost 6 years. We may drive to Orlando Int'l Airport and do a boarding practice run before departure. We'll be watching tons of videos – talk about emotions, reactions, expectations and above all, how fun everything will be. Yes, got to keep it positive!
Long live social media and technology!  Letters have been sent to the NY Tourism Office, the Mayor's office, the Museum of Natural History and the Central Park Zoo. Immediately, the Museum and the Zoo responded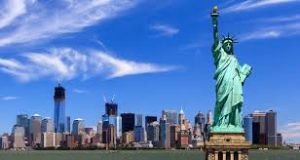 with such care and detail – see below!
We await input from Tourism and the Mayor.
Why do I need to communicate with these organizations? Because we want to have the best trip ever. Because autism and its particularities, if we allow it, could mess it all up. For the past two years, our existence has been about quality of life and that does not happen like magic – we make it happen!
Our main goal is to share the following:
Why Thomais likes the places she'll visit?
Does she think other kids should visit the location?
What kind of fun they can have there?
How a child with autism could enjoy the place or what to pay attention to?
My letter to the NY Tourism office and the Mayor covers a major need — Thomais refuses to ride elevators – Fear of heights, enclosed space, sense of darkness, etc. still rules our days. We work around it and we need the support from those on site.
I asked for their support to find a budget hotel (ideally close to the United Nations) – with room availability in the first 4 floors. Yes, I will go up the 4 floors several times a day if need be. Thomais already said: "I am healthy, I can climb 4 floors when needed." She understands what she can and cannot do. I won't push her. If she has managed to sort out and handle past challenges, this one will also be sorted but it will take more work. Our trip to NYC is not the time to sort. Our trip is about fun, discovery, taking it all in.
Feb. 24 – no answer yet!
March 27 – NO ANSWER from NYC Mayor's office!
Air BnB is wonderful — we found a studio, 8 blocks from the United Nations, 4th floor, NO elevator!!!  For only $140.00 per night!!
This was the letter sent to the Museum and the Zoo:
We'll be in NYC on April 4-7 – participating in the United Nations Autism observation event. We are planning a visit your location.
I need to know about access to stairs (my daughter refuses to get in elevators), sensory spaces and other accommodations you offer for individuals in the spectrum.
We do not let the diagnosis control our life but planning and asking questions makes our outings way more manageable.
The Museum quickly responded:
Every floor of the Museum is accessible via staircase. The staircases are wide, open staircases. The only exception is the Hayden Planetarium theater. This can be accessed via staircase; this is a large, but enclosed staircase. If you are seeing the Dark Universe space show, please arrive early, so one of our staff can escort you to the theater via the staircase.
The Discovery Room is a room in the museum that is made for hands on exploration and might be a good place for you to explore. Please see the link below for more information about the discovery room.
https://www.amnh.org/learn-teach/families/discovery-room
We offer a program called the Discovery Squad, on Saturday morning's before hours. There will be a program on April 7th at 9:00am. You can read more about the program on our website.
https://www.amnh.org/plan-your-visit/accessibility-programs#autism
3/27 – The Museum has been so supportive and responsive — everything is organized with them –  the Ambassador of Autism Tourism has as much info. as she can have to make the  experience more than special.
The Zoo in turn answered:
Here is a quick overview of each of the exhibit spaces which is more detailed out in the visual guide.
Tropic Zone – this is a warm and humid exhibit that has free roaming and birds. It can be a bit noisy at times and there are a variety of earthy smells.  The birds are not for touching even though it can be tempting at times J.  It can get a bit crowded in that space so it is good to know that there is a designated entrance and exit so make sure to be sure where those are if you need to leave quickly.
Penguin exhibit – this is a darker space and has a fairly strong fish odor.  There are great viewing areas of penguins because you can see them from pretty much anywhere.  The penguins love to come up to the glass but we as that there is no banging as it disturbs the birds. This space can also get crowded, especially after the sea lion feed.
The sea lion feeds happen at 

11:30

, 

1:30 and 3:30

 and the crowds can be very large. I recommend getting there about 5 minutes early and allowing the kids to get close to the glass or sit on the steps.
The Children Zoo is an area where you can feed goats, sheep and alpaca from your hand.  There is hand sanitizer there for cleaning at the end.
If you need a quiet space, there are two outdoor spaces that might work. The space outside of the café in the zoo (we call it the Intelligence Garden) can be quiet with fewer zoo visitors. The second outdoor space in on the benches surrounding the sea lion pool.  The plants give  those areas a bit of a more secluded feeling.
The other exhibits are outdoors and open but the zoo can be very crowded so any of the spaces we have can feel cramped at times.
So thankful to everyone!
More soon…