THE STORY OF THOMAIS
Thomais decided to write and illustrate her book …


Part 1 she says …
UPDATE:   NOVEMBER 2017 – Laura Harris from WFTS – The Now Tampa Bay Interviewed Thomais!
Click the picture to watch!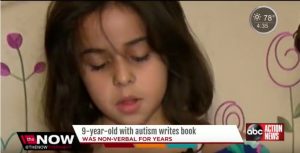 About Thomais     —  Thomais V. Moshopoulos was born in Athens, Greece in 2008. She was developing like any other kid but at 36 months she had a massive regression and autism became a part of her life. She loves dinosaurs, whales and at times she believes she's an encyclopedia and loves to share what she's learned.
Dyslexia challenged her. Thanks to an incredible tutor, Thomais learned to read in 2017 at 8 years old. She's beyond thrilled with the greater discoveries she's making.

She knows she belongs to the universe.

She is discovering that her emotions are very powerful.

Now she understands that her family is separated, how autism forced this separation and of course, she has many questions.
A friend asked –
Did she do the drawings?
Yes, every single one.
Did she come up with her own story?
Yes, she did. She asked questions. Mom answered. She wrote and drew.
How long did it take her to create her book?
About 15 days.
How did she react once it was done?
It was cathartic. Both Thomais and her mom cried a lot. Thomais expressed what she wants — her family to be together.
 Click here to purchase the book!
 

THIS BOOK IS IMPORTANT BECAUSE …
* Thomais has autism – the assertion of many that "individuals in the spectrum can not express emotion" is challenged. This book rejects that notion.
* Thomais is very funny, curious and expresses depth in her writing and drawings to understand that her family is separated and the reasons that created this reality.
* Thomais has dyslexia – 2017 was a breakthrough year – Thanks to her mentor, Mrs. K, and after a year of hard work, Thomais learned to read and understand the material at her grade level. Finally she can spell. She can send messages, text, etc. Before she could not! Now she loves to read.
* A children's book should not look perfect. This jewel is replete with the most perfect, meaningful and fun imperfections you have ever seen.
* This book is about love, life, learning to deal with problems and finding answers. Yes, at 9 years old Thomais is facing this incredible dilemma. She just wants you to enjoy her book … talk about it … and be part of her future decisions!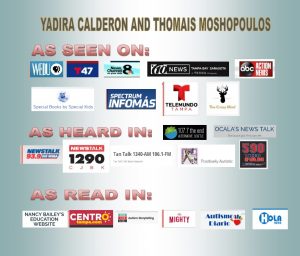 * El Comercio – Peru – published Thomais' video with Teacher Chris!