The power of the word… Being shared, exposed…
2019 – @Autism Live is beyond curious and responsive to the messages I share. I am ever so thankful!
This year, we talked about my discoveries with Entrepreneurship and Inclusion = Good Business (it all began last October in Memphis!)
2018 – Thank you @Autism Live Show and Shannon Penrod – virtually meeting you and being a part of your platform is a plus in everything we do.
Watch/listen to our exchange above!
Thank you @TheTeenMagazine – click the picture to read coverage of Thomais and our reality understanding autism and life! (April 2018)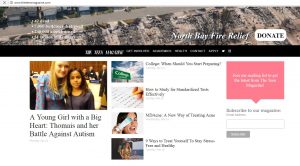 Thank you AlJazeera!
Honored and thankful to Leah Harding from Al Jazeera for including our voice and reality this #WomensDay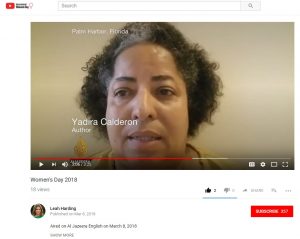 As the parent of a girl with #autism I do everything I can to keep her safe, empowered and prepare her for the world…
* Click the picture – I start talking 1:58 mark!
* Enjoy the FREE coloring book based on the book – Autism: The Happy Kingdom!
Just click this image —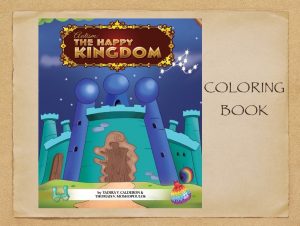 add to the cart, shop and don't pay a penny! You will receive by email a pdf file…
The book has not been published… In the meantime, the coloring book will provide hours of entertainment and  generate empowering conversations with your loved ones…
 * NOVEMBER 2017 – Laura Harris from WFTS – The Now Tampa Bay Interviewed Thomais!
Click the picture to wa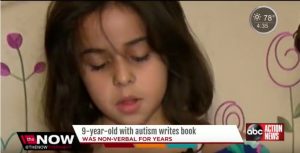 tch!
* OCTOBER 2017 —   EXTRA EXTRA –  REGIONAL EMMY NOMINATION FOR WEDU-PBS broadcast  – Autism Town Hall Meeting: Breakthrough to Hope
Congratulations to the producers – especially Spencer Briggs and Marketing Director Joyce Cotton!

Honored to be a part of this spectacular production!!
* THANK YOU to every media outlet and/or organization that has opened the door and allowed us to share our messages!
 * AUGUST 2017 – AUTISM HAPPY KINGDOM LLC publishes  The Story of Thomais!
Join Thomais as she discovers her family is separated and how autism was one of the culprits. She seeks answers and wants you to be a part of the solutions!
* RADIO SHOW (August 2, 2017)
Thank you NewsTalk 93.9 & 910 WSBA and Gary Sutton!
Part 1
Part 2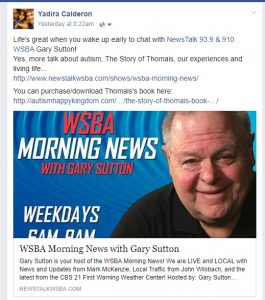 * RADIO SHOW (AUG 1, 2017)
TKO SHOW – KARA RO
     More details here
* RADIO SHOW (July 19, 2017)
Hollywood Connections is the show –
A collection of marvels from Tampa Bay FL and environs — Dawn Reese, Yvonne Madison, NFL QB Walter Briggs, King James and Chief Okuboye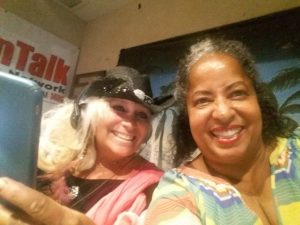 Thomais and I were welcomed, loved shared and more plans to be made…
Love Leads Us!
* BLOG DEDICATION (May 2017)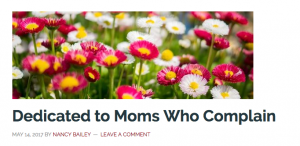 * NOMINATION (May 2017)

A marvelous mom – another Yadira Ortega-Rodriguez – sends me a msg a mth ago — I nominated you for something…
I was happily surprised…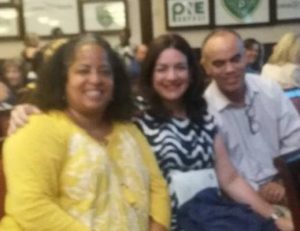 May 2016 - We met, again, and joined 
incredible 
people -- caring, respecting, 
accepting, helping, 
supporting individuals with 
special needs.
 A touching ceremony - Excellence in Action 
award 
from FDLRS Parent Services - 
Hillsborough County.
 The reminder to stay humble 
and focused.
 All our love!
* FEATURED GUEST (April 2017)

Autism Town Hall Meeting: Breakthrough to Hope broadcast on April 27
Major pride – The Producers were nominated for a Regional Emmy!
Clich here to view the program:  WEDU-PBS
* PRESENTATION (April 2017)

APRIL 2017 – PROMISING PATHWAYS CONFERENCE – FGCU/CARD – PARENTAL EMPOWERMENT – KEY TO SURVIVE AUTISM —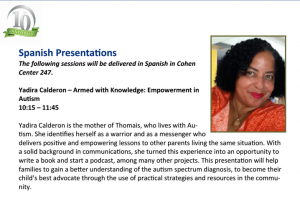 PRESENTATION IN SPANISH –
* ATTENDANCE -UNITED NATIONS AUTISM OBSERVATION EVENTS
(March 2017) – MY 24HRS OF DELIGHT – UNITED NATIONS AND NYC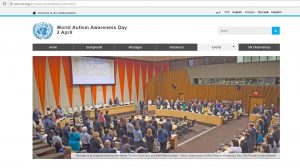 *I'm in this pic – far left – pony tail and beige sweater
http://www.un.org/en/events/autismday/events.shtml
* MEDIA COVERAGE
MARCH 2017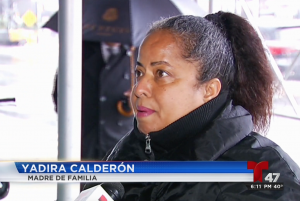 – INTERVIEW WITH CRISTINA NAVARRETE – TELEMUNDO47 NYC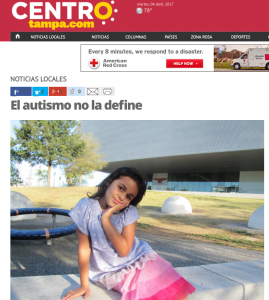 MARCH 2017 – AUTISM DOES NOT DEFINE HER – CENTRO TAMPA INTERVIEW
 * COMMUNITY WORK
OCTOBER 2017 – SPECIAL NEEDS AND MARRIAGE – A PARENT PERSPECTIVE PANEL
SEPTEMBER 2017 – BENEFITS OF THERAPIES AND NUTRITION PANEL
MARCH 2017 – AUTISM AND LEGAL MATTERS PANEL
JAN 2017 – AUTISM AND EMPLOYABILITY PARENT PANEL (recorded by WEDU PBS and promoted by WFLA Gayle Guyardo)
OTHER EVENTS I ORGANIZED!
* MEETING FAMOUS PEOPLE
MAY 2016 – Thomais met Chris Ulmer from Special Books by Special Kids.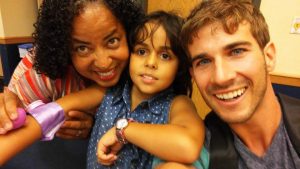 Her words: "Autism is not scary, it is a beautiful heart inside you", summarize the powerful message of this book.
Jan 2016 – With Gayle Guyardo, Lead Reporter @WFLA Tampa