We know all about autism awareness.
We want action. Life with autism is 365 days, 24/7…
These are various posts  I shared in social media. They reflect the reality of many families. For many it's been the same or worse for 10+ years. The media rarely reports on these matters.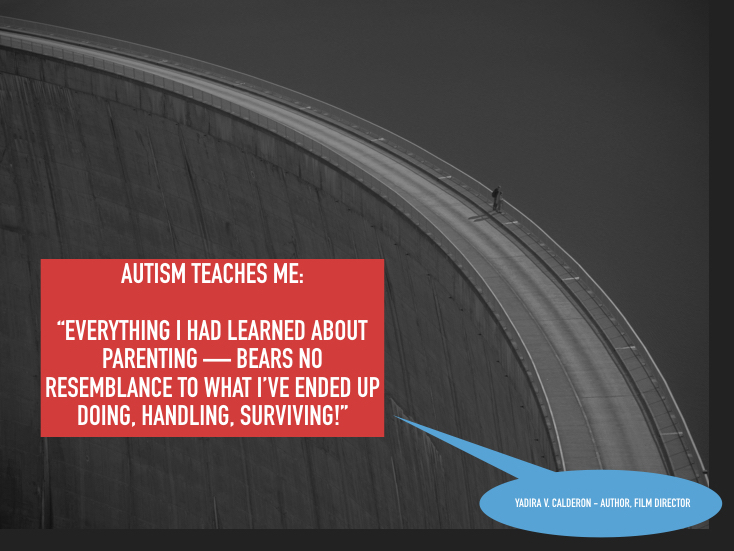 Do share!
AUTISM REALITIES
Act today! I know you are aware…
Reach out to those around you in similar circumstances…
Autism survival is tough, we can't do it alone…
Read on…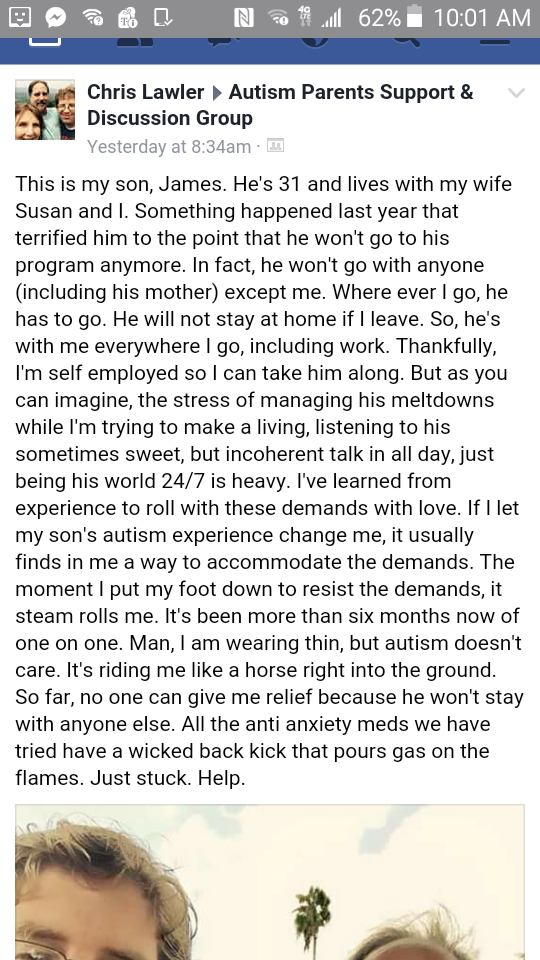 My respect to the families doing their best with their adults and the severity of the diagnosis = in diapers, self aggression, sick, weakened immune system, encephalitis, OCD…
Read this father's reality…. Share his story, he seeks help!
AUTISM REALITIES
Wandering… the biggest fear in any household raising/protecting/caring for/surviving a child/adult in the spectrum.
They move fast, stealthy, quiet, they may or may not know what they are doing.
At the grocery story, my daughter who is apparently aware of consequences, she moved away for 5 seconds (right before I told her I need you by my side as I'm paying at the register). 
I breathed, did not scream, just called her name and she was right by the entrance of the store.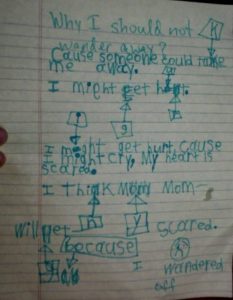 She called out for me and there I was.
I hugged her, then gave her the third degree. I reminded her of the negative consequences. I reminded her I want her safe and it is a tough job and she must help me.
AUTISM REALITIES
Many parents heard these exact words from many professionals in the field… still occurs today!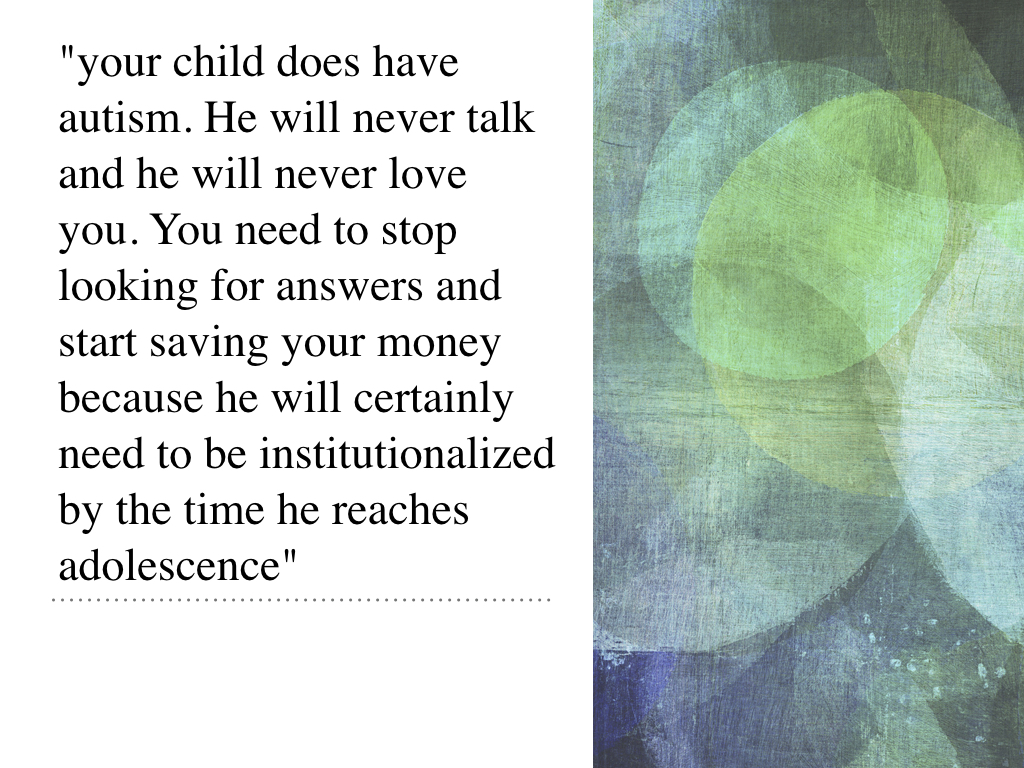 Parent, if you've ever been told this fallacy – report the doctor to the American Academy of Pediatrics 
American Medical Association (AMA) 
American Academy of Neurology (AAN) 
American Academy of Child & Adolescent Psychiatry 
This is not professional. It is unacceptable. Not every case is the same. Not every family is the same.
AUTISM REALITIES
sit down plz!!!
Neurofedback therapy can cost $250-300 per week!!! OUCH…
Eval/Assessment $500-1000+ – not included!
Most times, not covered by insurance!
AUTISM REALITIES
Love, expressing it in different ways
IT'S STILL LOVE AND NOT DIFFICULT AT ALL
AUTISM REALITIES
Don't you ever doubt… I have the pleasure of knowing Robin and Ann Millan — the utmost respect for both… Be inspired, don't doubt, research, act…
Read thru this… all of it…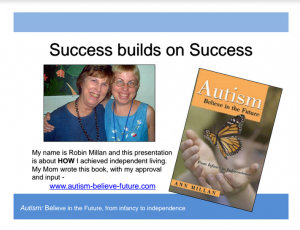 https://drive.google.com/file/d/0BxP7-Kc4isLORXlLWXROcXRFRWc/view
http://www.autism-believe-future.com/
AUTISM REALITIES
Sad outcome – Missing Teen in the spectrum was found dead
AUTISM REALITIES
'Cause, we the parents make it happen!
AUTISM REALITIES
Watch the documentary – My Kid Is not Crazy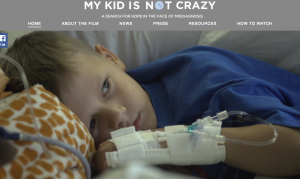 A search for hope in the face of misdiagnosis
MY KID IS NOT CRAZY IS THE CINEMATIC, PEDIATRIC EQUIVALENT OF BRAIN ON FIRE-MEETS-INFECTIOUS MADNESS. A FILM THAT WILL CHANGE THE WAY WE LOOK AT MENTAL ILLNESS FOREVER.
-CHICAGO NOW
CLICK HERE: RESOURCES FOR PANS/PANDAS
AUTISM REALITIES —
Many children/adults wake up after 1-2hrs of falling asleep — with sweaty head, night terrors, screaming, sleepwalking, jumping, in a different realm, speaking gibberish, some aggressive — 
It is scary. As a parent, we feel no control…
Tonight first time in 6+ yrs, my daughter's, now very brief wake up session – head not as sweaty and she fully verbalized a thought – I guess she was dreaming — she was shaking, she looked concerned — 
She said: "I just released the sea creatures… so they can be happy"
I told her – you are being a great explorer. Kissed and sang to her and she fell asleep —
This is huge… a clear thought… full of meaning – 
She may not remember this tomorrow AM. I'll ask her…
I am a featured guest in the
Autism Town Hall Meeting
produced by WEDU PBS in Tampa. Sooo honored!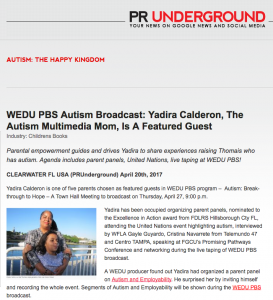 * Event I organized – Autism and Employability – great resources here!
AUTISM REALITIES
Event I organized
Autism and Legal Matters
* Many resources in the link– If you have a teen, please start reading about this now! Do not wait!
AUTISM REALITIES
Autism, anxiety, overstimulated senses = reality = afraid/not being able to enjoy a movie
AUTISM REALITIES
The day my child stops going thru these outrageous situations… 
yes, the kind that proves awareness is not real… I will stop these posts…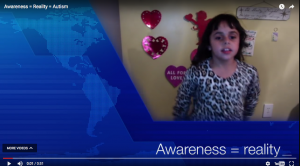 One day to promote awareness is not enough… 
#autismawareness everyday!
Help my kid forget this ever happened! Be her voice… share…
https://youtu.be/W5_ft493gLo 
 No teacher should ever scream!
AUTISM REALITIES
Interaction with Teacher Chris – Special Books by Special Kids —
Thomais is diagnosed with autism. She quickly hid inside a cabinet when I entered the room.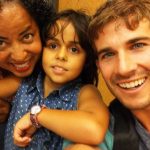 Instead of forcing Thomais out I sat on the floor and talked to her and a beautiful interaction followed.
Video:  https://www.facebook.com/specialbooksbyspecialkids/videos/750678288367487/
AUTISM REALITIES:
DONATE TO OR PURCHASE GOODS FROM PEOPLE/ORGS. REALLY, REALLY HELPING FAMILIES WITH KIDS IN THE SPECTRUM!
I make this request because I've heard horror stories of families that have been fleeced, used, manipulated by unscrupulous individuals who sought to gain from desperation and need. Simply, they saw an opportunity to easily profit and took it. Buyer beware!
AUTISM REALITIES

 


Domestic violence occurs in many households… Talking about it it's not easy. This mom with two boys with special needs finally opens up.
After so much pain, she's alive, healing and building her happy kingdom.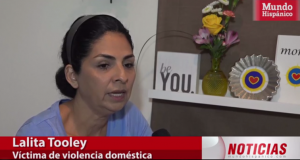 Lalita Tooley is a Mexican mother of two special children, Connor, her eldest son who was born with down syndrome and Jack, her youngest son who has autism. Like any other woman, her dream was always to be able to form a family with the man she loved, the father of her children, but that dream disappeared after the birth of her second child.
Tooley claims that her husband could not bear to see that his two children were disabled children, which led him to take a despot attitude toward her, which later became physical and psychological abuse.
Eight years after being a victim of domestic violence and a restraining order against her former partner, Tooley is dedicated to caring for her children and other children with special needs, as well as giving support talks to empower parents with special children .
According to statistics from the National Coalition Against Domestic Violence, in the United States every minute, 20 people suffer from domestic violence by their partners, which is equivalent to more than 10 million victims a year.
AUTISM REALITIES
Best message I ever received from two developmental pediatricians… Autism is medical they said!
I did not know what they meant then. Like minded fam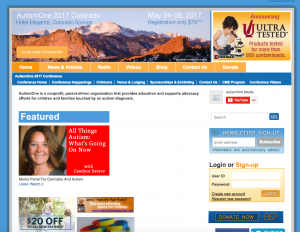 ilies have guided our path…
No more teeth grinding. No more monthly sickness. No more barking cough. No more grumbling tummy. 
Still mild sweaty head. Still sensory issues.
Major improvements in behavior I mean MAJOR!!!
Read a lot. Ask questions. Address the medical issues and your child will come back. 
I keep at it…

AUTISM REALITIES
So proud of my friend E and her daughter M. —
M. picks her eyebrows, armpits and more when OCD is raging.
She's not a kid anymore. She knows what she's doing yet she cannot control herself.
Parental power in action —
They tell M  –  you hurt yourself, we are sad, we help you. If you keep picking your hair we'll put the phone in the trash.
M reacts by turning her head.
Time passes, M picks her eyebrows.
Mom E throws phone in the trash.
Major reaction from M and verbalizes awareness of what she's done.
She's asked: What will happen if you pick your eyebrows?
She answers: Phone in the trash.
Every family finds a solution to their reality.
Tough love works. It is not easy. It takes time to see results. But it works.
AUTISM REALITIES
Video of my daughter after arguing, crying, losing all calmness — she insists 9+9=0 because that is what ST Math says.
She needs to be taught how to learn!!!
 AUTISM REALITIES
A mom writes:   My 19 month old is non verbal and a head banger. I am awaiting his evaluation but gosh this is so hard…he screamed for 3 hours straight today while knocking over everything he can and hitting himself. His anger is worsening by the day and it's just me and my son all day everyday while my husband is off and home about 1 day a week. Does anyone have any calming mechanisms? It seems like all he does is scream and rage all day nothing I'm doing is helping him and Ive cried so many tears. Anyone go through the extreme anger fits with a toddler?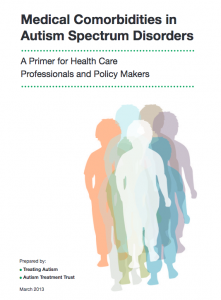 MY NOTE:  A 19 month old without a history of psychiatric issues in the family should not head bang, should not have anger fits. I have learned, there are medical issues behind these behaviors. There are medical solutions to address it. Early intervention is key!  Around 19 mths, my daughter also had a brief period of head banging and screaming fits at 11pm-1am. It did not last long thank goodness.
Interesting info here:
MEDICAL COMORBIDITIES IN ASD = one of the best sources!
AUTISM REALITIES  —  
April 19 at 7:05am ·  2017
Things are.much better now 
Health and behaviors 
Tons to do
Parents do your homework , there are many ways to address the medical symptoms our children endure, suffer from
April 19, 2014 · 
The helplessness.. impotence. .. lack of control… sadness. .. frustration… etc…  We experience daily with our children and the diagnosis of autism is sooo
 

overwhelming. ..

 
Give me the good days… the bad ones I say… F .. k U autism!!!!!!
Action now… I demand answers to address the medical issues affecting my daughter's behavior
AUTISM REALITIES
Family was told bus did not have wheelchair lift
MY NOTE:  We experienced the same last year —
One more time, I witness a reaction to my pointing out my kid is not included, my kid is not accepted. It is too obvious and I notice.  My daughter needed to be with her classmates and other 2nd grade students on that stand, belting it away, being a part of a school event. Mrs. Urban, thank you for letting me know now that she's very advanced in your class. That is a real Mother's day present. Yet, she's not a 4th Grader, she's not in choir. She's a 2nd grader who participates in two different classroom dynamics because that is what she is needs: a least restrictive environment.
You told me 3+mths ago that Thomais had changed so much, improved so much and you were very proud of her. Yet, the opportunity was missed to show your pride as a teacher and confirm that  United We Soar! as the school proudly exclaims every time.  There is no soaring… There is no united and all of you know it. School and district administrators and the FLDOE are fully responsible for this mess; because there is no directive guaranteeing these absurdities will not take place in 2016.
But, they keep happening!
AUTISM REALITIES
TABOO TOPICS – SEXUAL EDUCATION, SEXUAL ABUSE, SEXUAL MISCONDUCT
We must talk about it… Parents must become the first line of safety in their kids' life. A lot must be read. Parents must accept what their child/teen/adult can or cannot understand. Request a social story from the organizations that are supposed to help. Above all, remain cautious and communicate to the best of your abilities the concept of body awareness, physical safety.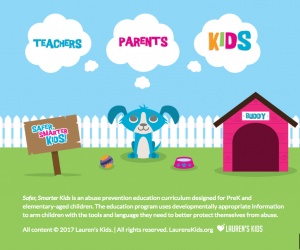 Read this — Two child sex offenders explain how they picked their targets
I did this video last year – Talk for the Voiceless Now!
AUTISM REALITIES
In Florida and other states –
1. YOUR child may be removed from school
2. Transported to a psychiatric facility
3. Held for up to 72 hours WITHOUT YOUR CONSENT OR KNOWLEDGE!
Click the link, read, act:
PROTECT YOUR CHILDREN WITH 5 SIMPLE STEPS!
And tons more takes place…
Many families celebrate the huge and small successes.
Many families suffer in silence.
Thank you for your support. Share our stories throughout the year, not only in April!