Rainbow is beyond excited…
For months she has been asking — when will I read my books to other kids?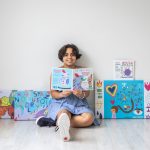 Well, thanks to Diane Johnson, Library Director at the Hendersonville Public Library (Tennessee), it will happen.
Rainbow will read:  Rainbow Rabbit Meets Oracle the Alphabet Creature
Diane validates Rainbow's title of author, message transmitter and influencing the love of reading in kids. This is beyond meaningful and significant, because…
Diane opens the door to independent writers to share their voice with the community.
Diane promotes diversity in its space.
Diane is setting an example to be followed. There is no doubt libraries around the country must do the same.
Yes, we have so much respect for Diane. She is treating Rainbow as a valuable member of the community.
I can continue emphasizing the importance of this event. I know you get the picture.
Join Rainbow on Saturday, June 12 – 10:30am
140 Saundersville Rd, Hendersonville, TN 37075
A businessman in Tennessee purchased her books  – Rainbow will have 5 sets of books to give away during this event!!!
Her books will be available for purchase.