Our minds at this moment are racing… Our hearts are beating faster than ever… and it all feels incredible.
Yes, we will self-publish in 24hrs. Our book "What I Gained and Lost During COVID19" will be available in Amazon, Barnes & Noble and Ingram Spark. This is such an accomplishment and the product of many steps.
Above all, the desire to build a new path and a solid platform of independence for Rainbow Mosho. Yes, I know she is only 12 but as I keep saying, I cannot wait until she's 16 to create a plan for her future. Her future is today. Her wellbeing is now. And every interaction, post, phone call and doubt will result in excellence as time passes.
The biggest lesson… everything is achievable. Yes, it is. You just want to want it. You just have to be ready and willing to do it all and most times, getting out of the comfort zone.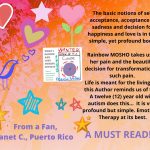 As a parent, I am being an example of resiliency and fearlessness. We are in a tough spot — I am not fully employed and our housing realities need a lot of fixing. And this reality, with all the possibilities ahead are the best message I can share with Rainbow. We face challenges and we don't back down. It is complicated. It can be a source of insecurity at  times. We must try it all.
So to our future entrepreneur selves I say, today November 18, 2020… You were right. You did not allow the not having certain guarantees (solid financial backing, a detailed business plan) stop you from trying and succeeding. The best thing you did was asking for support at the right time and asking others to believe in your product.
To be updated on November 18, 2021…