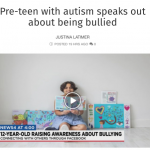 It is always an immense reward when the media responds to our attempt to gain their attention and share our messages.
Justina Latimer from WSMV – Ch. 4 in Nashville responded with intention and the willingness to let Middle Tennessee know about Rainbow's reality and wishes.
Click this link:  WSMV – CH. 4 – NASHVILLE INTERVIEW
Her attention to detail, every question she asked and the grand prize, two segments on Friday April 23 (4:00 and 6:00pm). Hip hip hurray.
The main message was Rainbow's attempt to handle and fight PTSD after having being bullied in school. And Rainbow wants this to become a positive experience. She also wants other kids to understand they can find help and must always seek support from an adult.
Beyond thankful. We continue opening doors for Rainbow.