It is beyond rewarding when hard work produces results.
I have sent more than 100 press releases. All kinds of organizations have received it.
And it only takes one positive response to put it all in perspective and reaffirm your purpose.
We are correct by following our instinct.
We are doing what matters to us.
We are fulfilling our goals.
We are busting our chops to achieve our dreams.
And then, an email just brings joy and plenty smiles. A reporter wants to share your story. A reporter has the intention to include our life as a family raising a child in the autism spectrum in the news. Why? Because it is important and relevant for others to know what we do and how we survive and achieve.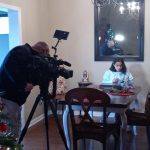 We are not the product of a miracle. We are the product of wanting to enjoy quality of life and realizing we must create a plan and make it happen.
It is happening people.
Thank you Dennis Ferrier from FOX17 in Nashville for the gift of those hours and asking so many questions and wanting to know more about  someone else's life.