We wrote a book to share a variety of experiences during these bizarre times we now live.
As a parent, I was not going to be at peace complaining about the difficulties and uncertainty.
I became an instigator of proactiveness, realizing we all needed to acknowledge and accept our emotions. With a kid that is harder, it takes tons of patience and you don't know how they will react. Now, with a kid in the autism spectrum, everything can be more complicated.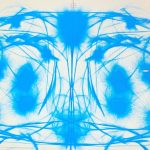 So that is why I promoted the use of art as the tool to survive, to communicate and to feel humane… Art was a natural in Rainbow's life but since March 2020, art became the way to exist.
Now that our book is available and people are reading it. I am most humbled to receive this testimony from a parent. This is a fellow mompreneur, raising and empowering a kidpreneur on the autism spectrum… And she says:
We are all about developing coping strategies over here. Things to help us get through our day.
We all need coping strategies; it can be something as simple as a cup of mid-afternoon tea to give us a little boost, a journal entry, a mindful moment. But for a kid (or adult!) with autism, those coping strategies are different. And hugely important. Like, not having them can be disastrous.
We witnessed this with Evie for many years, until we had enough experience to say "when something is too loud, use these headphones to block the noise", for example. These strategies prevent meltdowns. It allows Evie to regulate herself in such a way that she can calm down, refocus, and eventually engage again and
verbalize what the trigger was.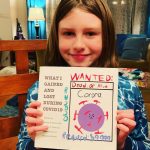 For perspective, Evie spent 75% of her time from 18 months to about 4 yrs old on the floor screaming. Talk about emotionally draining. Even though life is different now, we take those same concepts of coping strategies and find what works for her.
So did our new friend @rainbowmosho. She was having difficulty dealing with the life-upsetting pandemic, so she used art as a coping strategy and as a way to communicate and express her feelings, and turned it into a book!
So when we got her new book, it inspired Evie to try her hand at some digital art as a form of therapy. And much to my surprise, my not-artsy kid reported that creating these beautiful flowing designs helped to calm her, and make her feel better if she was upset. Wow!
So thank you Rainbow, not only for sharing your artwork with the world, but for inspiring Evie to try something new and find joy and peace in creating art!
And we are reaffirmed that our book shall serve many purposes. I was inspired. Others are inspired. Let's keep surviving and using art as a source of peace in our homes.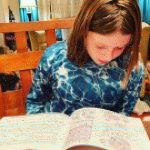 #artandautism #artistwithautism #kidauthor #kidceo #kidswithautism #inspired #inspireoneanother #arttherapy #copingstrategies #kidschangingtheworld #kidsofinstagram #autismawareness #autismfamily #autismlife #supporteachother #friendsofinstagram #nextgen #kidsrule #endangeredspecies #protecttheenvironment #smallbusinessowner #smallbusinesssupport #kidbusiness #wearyourwaterbottles Reposted from @ecoevie