MARCH 2021
I've known Thomais from the time she was a year old. At that time, she seemed to be meeting developmental targets. Then, it all changed. After multiple evaluations she was diagnosed with autism.
Ever since her mother has made it her mission to ensure that Thomais has access to services and opportunities to develop her skills. Their efforts and commitment have surely paid off.
"What I Gained and Lost During COVID 19" reflects her ability to perceive, understand and process complex situations at a level others her age and even older, have not.
Thomais is insightful, witty, and caring. Despite facing many challenges in the past year (including the loss of her beloved grandmother), hers is a message of hope.
Then there is her art, full of color and engaging, reflective of a vivid imagination. I'm so impressed by the fact that she has found positive and healthy ways to channel her feelings. As a licensed clinician, I know that is not always the case.
Like Thomais, I believe!
Imelda Rivera, MSW – Licensed Clinical Social Worker
* Imelda and I met in 1984 when we were chosen to be exchange students in Canada. She went to British Columbia and I went to French speaking Ontario – Hawkesbury and L'Orignal.
Yes, after all these years we keep in touch, we have visited each other and we value our bond – I was 17, she was 16 and we left our homes to go meet other families.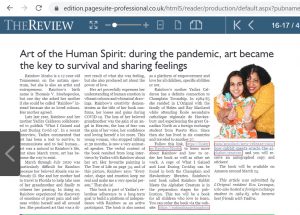 Well, one of those families I met and received love from, the Levesque's, Eva the mom, just reviewed our book and click here to read what she wrote.
I was so moved. And their daughter Anna and her parents helped us publish our second book.
This is just an important reminder that we plant seeds, we all have a purpose and those seeds become incredible flowers of love and support when you least expect it —  Sooo thankful!
To top it off — Eva donated books to the local libraries in Vankleek Hill and Hawkesbury.
And The Review held a giveaway with the books and stickers we donated. Read here.
February 2021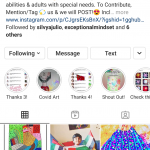 The latest review from Serene Creative Art in Canada!
Click here and purchase the book from Amazon.ca 
It has been less than 2 weeks since we published our book – What I Gained and Lost During COVID19 – and the outpour of emotion and praise is real.
So thankful and humbled…
Juanita P. in KY says: 
"….through the eyes of a child…."
We live in unprecedented times. Rainbow Mosho shares her journey of the meaning of life during COVID 19. There are losses, but many gains.
Thank you Rainbow Mosho, for inviting me to be a part of your journey.
M.M. in Middle TN shares:
Pausing allows us to see, approach and celebrate what IS. Rainbow Mosho helped my family see the difficulties we are experiencing due to COVID-19 and other matters unaware to our consciousness. Her book reminds us that with every challenge there is a victory.  It invites us to reflect on the reality of the pandemic and compels us to go join her the process of feeling and expressing our emotions around its impact on our lives. 
This is a model worth applying to all our emotions. By fulfilling the human need to create and heal, Rainbow's artistic creations reward her with growth and peace of mind. She shares the light at the end of this shared tunnel which helps relieve our comfort in being stuck, fearful or reactive towards challenges. Thank you for sharing your powerful spirit and reminding your readers to see and celebrate the gains from our feelings. 
And more in this Gallery!